Sri Ramana Maharshi's Life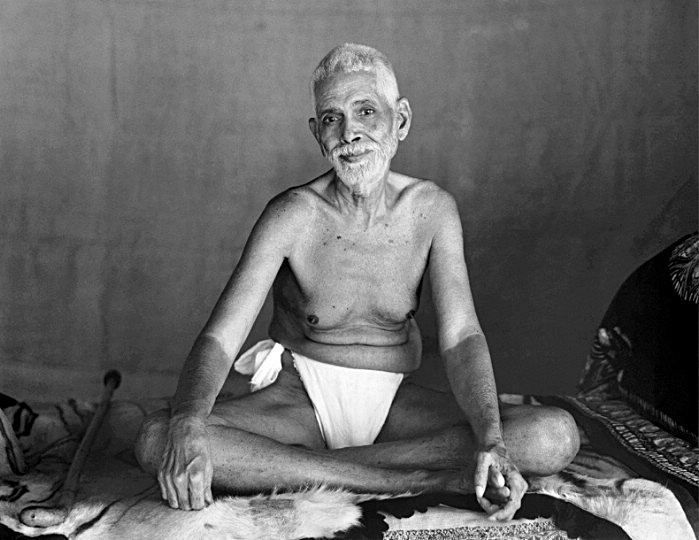 Bhagavan Sri Ramana Maharshi was a great Indian sage of the twentieth century. He was renowned for his saintly life, for the fullness of his Self-Realization, and for the feelings of deep peace that visitors experienced in his presence. He spent his adult life in an ashram on the holy hill of Arunachala, guiding devotees and seekers on the path of spiritual Knowledge. He answered questions for hours every day and taught Self-inquiry - to ask oneself, "Who am I?" - as the path to Enlightenment, or Self-Realization.
Early Life
Venkataraman (later to be known as Bhagavan Sri Ramana Maharshi) was the second son of Sundaram and Azhagammal Iyer, born on December 30, 1879 in a small village, Tiruchuzhi, 30 miles from Madurai and eighteen miles from the nearest railway station. Sundaram was a pleader (lawyer) of the town. He was a courageous and generous man and renowned for his upright character.
In terms of spirituality or religious devotion, he was like other prosperous pleaders of the time. At home was an altar with tiny images that were offered the daily food before it was served to the family. There were occasional visits to the local temple or reading from the legends and epics at home. There was a peculiar feature of the family, though, which is that one member of each generation gave up home and comforts and became an ascetic. One of Sundaram's uncles had donned the orange robe and became a sannyasin living on begged food.
Venkataraman seemed to be an unpromising boy. He was indifferent to study, though with keen intelligence and wonderful memory. He would often go unprepared to class, and, hearing one student recite the lesson, he could immediately repeat what he had heard and then would forget it once the class was over. He seemed more interested in sports and would spend hours with friends wrestling, swimming, playing soccer, and such.
When Venkataraman was twelve years old, his father, Sundaram Iyer died. On the day of his cremation, for several hours, Venkataraman inquired into the meaning of life and death. Paul Brunton recorded what Ramana told him about his inquiry on this day:
"On the day his father died, he felt puzzled and pondered over it, whilst his mother and brothers wept. He thought for hours, and, after the corpse was cremated he got by analysis to the point of perceiving that it was the 'I' that makes the body see, run, walk, and eat. "I know this 'I,' but my father's 'I' has left the body."
This was a forerunner of his enlightenment, which was to happen four years later at Madurai.
Madurai
On the death of his father, Venkataraman's family split up. Venkataraman's older brother, Nagaswami, and Ramana stayed with their uncle Subbier in Madurai. Venkataraman studied first in the Scott's Middle School and later in the American Mission High School.
Like his father, he drifted into a traditional regard for Saivite worship and went through it without experiencing any special emotion. But towards the end of 1895 something happened that presaged Venkataraman's coming future. One day in November, he met an elderly relative and asked him the usual question, "Whence are you coming?" "From Arunachala" was the reply. "Arunachala," which he had heard before and had had no particular reaction, suddenly filled him with joy and awe, with ideas of holiness, kindness and supreme power. He exclaimed with excitement, "What! From Arunachala! Where is it?" The relative replied, "What! You do not know Tiruvannamalai? That is Arunachala."
About the same time, the book Periyapuranam, the lives of 63 Saivate saints, came into Ramana's hands. "The book happened to be in our house, and, coming across it, I looked into it out of curiosity. Then, becoming interested, I read the whole book." It moved and inspired him. These were stories filled with yearning for God, as the saints were soaked in devotional fervor and faith.
Enlightenment July 17, 1896
This is a first person account by Ramana of his enlightenment:
"One day, I was alone on the first floor of my uncle's house. I was in my usual state of health, but a sudden and unmistakable fear of death seized me. I felt I was going to die. Why I should have so felt cannot now be explained by anything else in the body. I did not, however, trouble myself to discover if the fear was well-grounded. I did not care to consult doctors or elders or even friends. I felt I had to solve the problem myself then and there."
"The actual inquiry and discovery of 'Who am I?' was over on the very first day, after a short time. Instinctively, I held my breath and began to dive inward with my inquiry into my own nature … I stretched myself like a corpse, and it seemed to me that my body had actually become rigid. 'I' was not dead. 'I' was, on the other hand, conscious of being alive, in existence. So, the question arose in me, "What was this 'I'?" I felt that it was a force or current working, despite the rigidity or activity of the body, though existing in connection with it. It was that current or force or center that constituted my personality, that kept me acting, moving, etc. The fear of death dropped off. I was absorbed in the contemplation of that current. So, further development or activity was issuing from the new life and not from any fear."
What happened after this was narrated by Ramana to Narashima Swami.
"That changed my mental attitude and habits. I had formerly some preferences and aversions. All these dropped off, and all food was swallowed with equal indifference. I would put up with every burden imposed on me at home and every slight at my expense by the boys. Studies and duties became a matter of utter indifference, and I was going through studies turning over pages mechanically."
After his enlightenment, there was no change in the state of Ramana's steady Self-abidance.
To Arunachala
The focus of Ramana was now the Self. He put aside his school books and social duties. This conduct was reprimanded by his uncle and brother who bitterly deplored that a fine intellect was being used for what they thought was a useless religiosity. The school-master also could not put up with the disregard of class lessons and found his exhortations useless.
On August 29, 1896, Ramana was writing a punishment given him by the school-master, which was to copy a particular lesson three times. After writing it twice, the futility of this struck him. He stopped writing and lapsed into meditation. Seeing this, his brother remarked, "Why should one who behaves thus retain all this?" The truth of the remark struck home. "Yes, what my brother says is quite true. What business have I here any longer?" He could no longer stay at home and decided to leave for Arunachala.
He told his brother, Nagaswami, that he had to attend a special class at school. Nagaswami said, "Well then, do not fail to take five rupees from the box below and pay my college fees in the college near your school." Now, the money was provided for the journey. Ramana then gulped a quick meal served by his aunt, who gave him five rupees. He looked at an atlas, unfortunately out of date, and saw that the nearest railway station to Tiruvannamalai was Tindivanam. Actually, a station had been built in Tiruvannamalai in 1892, but this was not shown on the atlas. He estimated that he would need only three rupees, and he left two, along with a parting note which reads:
"I have, in search of my Father and in obedience to his command, started from here. THIS is only embarking on a virtuous enterprise. Therefore, none need grieve over THIS affair. To trace THIS out, no money need be spent.
Your college fee has not been paid. Rupees two are enclosed herewith.
       Thus ___________________
The letter was not signed, for his separate identity as Venkataraman had been lost after his discovery of his true identity as the Self.
After writing the letter, Ramana hurried to the train, since the departure time was 11:45 a.m., and it was now noon. Though he was late, the train, too, was late. He bought a ticket to Tindivanam and was given three annas in change. Had he looked at the Railway time table, he might have noticed that Tiruvannamalai was now shown as a stop, with a fare of three rupees.
After the train had passed several stations while Ramana had sank into himself, an elderly Moulvi noticed Ramana not taking part in the discussions. He asked Ramana where he was going. Upon hearing of Ramana's destination and understanding the error that was made, the Moulvi gave Ramana instructions as to how he could change his route and get closer to the final destination (Arunachala). Ramana changed routes and bought an additional ticket that would take him as close to Tiruvannamalai as his funds would allow, about thirty miles distant, determined to walk the rest of the way.
At about 3 p.m. he reached Mambalapattu and started his walk to Tiruvannamalai. By nightfall, he reached the Ariyaninallur temple after walking ten miles. Tired from the heat and walk, Ramana waited for the temple to open. When the temple was opened, Ramana entered and sat down in the pillared hall which was not quite yet dark and fell into meditation. As he sat, he had a sense of dazzling light illuminating the temple. He rose, thinking that must be the appearance of God here, and went into the inner temple to see if the light came from there. But he saw that no light came from the image in the inner temple and sat again in meditation. The meditation was later interrupted by the temple cook shouting after puja, "Who is there in the hall? Come out. I must lock the temple." Ramana came out and asked for some food. "There is no food for you," came the reply. "Let me at least stay here," asked Ramana. "Oh no," said the priest, "No one is allowed to stay here."
It was suggested that Ramana might get some food at a nearby temple in Kilur. He was again refused food by the priest, but the drummer, seeing the hungry boy and noticing his ascetic behavior, offered his share to Ramana. Ramana took the leaf-plate of rice and walked outside to get some water, whereon he fainted, overcome by exhaustion. When he came to, a small crowd had gathered around him. He was given water, which he drank as he gathered and ate the scattered rice. He then lay down on the bare ground and slept.
The next morning, August 31, was Gokulashtami, a festival day honoring Lord Krishna. He still had 20 miles to go to reach Tiruvannamalai. He could not discover which path or road he was to take. He was tired and hungry. Trying to think how he could take the train to Tiruvannamalai, he had the idea of pledging his ruby earrings for train fare. Ramana stopped at random at a house and asked for food. The couple was delighted to have a Brahmin boy with lustrous eyes as their guest on this day. The lady of the house gave him a large meal. Then, Ramana asked if he could pledge his earrings for train fare. He was given four rupees and also provided with lunch, as well as a packet of sweets for the journey. Since there was no train until the next day, he slept at the station.
The morning of September 1, 1896, Ramana took the one hour train ride to Tiruvannamalai. The search was ended; he had come to Arunachala. There would be no parting ever.
Early years at Arunachala 1896 - 1899
Arriving at the Tiruvannamalai station, Ramana beheld what was to become his home for the rest of the life of his body. Alighting from the train, he immediately saw the "starry-pointing" towers of the Arunachaleswara's temple. The sight filled him with joy. With quick steps, he proceeded straight to the great Temple. The gates of the compound were open, and all the inner doors were open. There was not anyone there, and it looked like the Father was welcoming his "beloved son," who walked right into the inmost shrine and addressed Arunachaleswara (in the shape of lingam):
 O God, obedient to thy call,
 Here have I come, deserting all.
He stood there in bliss for a while and then left the sanctuary. Now, the young Swami, with no book-learning and no teacher to help him analyze all he felt, stepped into his new life. Aimlessly walking, he came upon the Ayyankulam Tank, and threw away the bundles of sweetmeats given to him the day before; "To this block (i.e., the body) why give any sweetmeat?" Walking to the temple, he was asked if he wanted to have his hair shaved off. "Yes," replied the young Swami. A clean-shaven head was a token of asceticism (sannyasa), of parting with the vanities of the world for things far higher and more serious. He then tore his cloth in two, and, wearing one as a kaupina (loin cloth), cast away the rest and all his remaining money. He also removed the sacred thread from his body and threw it away. The casting away of the sacred thread had great significance. The young Swami had realized his own nature and discarded all that was not the Self. The body was not himself; he had effectively discarded it. The sacred thread was a reminder of his Brahmin descent and the superiority implied by this. He was now far beyond such distinctions.
After his shave he did not bathe but addressed his body, "Should this block be afforded the comfort of a bath?" and headed on back to the temple. On the way back, there was a heavy rain that soaked him from head to foot.
The Thousand-pillared Hall

The next few weeks' stay in the temple were not all pleasant. Ramana was a young man without any kinsmen or supporters. He stayed in a mantapam — a thousand-pillared stone "platform" of the temple of Arunachaleswara  — and maintained silence, as he did until 1907. The youths in the village thought him another crazy fellow and treated him as though he were mad. They would throw rocks at him as he meditated and play pranks on him.  He then moved into the darkness of a large pit, actually a small cellar, lined in stone, which has a large Siva lingam in it. It is known as the Patala Lingam (cellar), and it is located right in the mantapam. One gets to it by a short, steep flight of stone steps. The Patala Lingam was never cleaned and was damp and full of insects. As the young Mouni (the silent one) sat there in the bliss of Being, mosquitoes, ants, scorpions, and other vermin attacked his body and enjoyed his blood. Ramana continued in silence and bliss and was bothered by none of this. The darkness kept the troublesome youths away, and another sannyasin, Seshadri Swami, sometimes mounted guard.  Even so, sometimes, the boys would still hurl stones into the darkness. This was noticed one day by Venkatachala Mudali, who reported:
"One day, going near the thousand-pillared hall, I found a group of boys hurling stones in the direction of the pit. Enraged at the sight, I seized a twig and ran towards the young scamps who fled promptly. Suddenly, from the dark recesses of the hall, there issued forth the figure of Seshadri. I was taken aback but soon, recovering myself, enquired of the Swami if the stones pelted by the boys had hurt him. 'Oh no', replied the Swami, 'but go and see the Chinnaswami (Ramana) there.' He pointed at the pit and went away. Proceeding inside, I could make out nothing for a while, as I was coming from the glare into the darkness. In a few minutes, the faint outlines of a young face became discernable in that pit. Somewhat frightened, I went out in the adjoining flower-garden where a Sadhu was working with his disciples. Mentioning the facts to them I took some of them with me. Even then, the youthful figure sat motionless and with closed eyes despite the noise of our footsteps. Then, we lifted the Swami from the pit, carried him from the hall up the flight of steps, and deposited him in front of a shrine of Subrahmanya. The Swami still remained unconscious, his eyes closed, evidently in deep samadhi. We noticed the large number of sores on either side of his thighs and legs, with blood and pus flowing from some of them, and wondered how anyone could remain unconscious of his body amidst such torture. Regarding it as irreverence, nay impertinence, to make any further noise in such a presence, we bowed and came away."
The Subrahmanya Shrine

 Ramana stayed at the Subrahmanya shrine for a couple of months. He would sit motionless in samadhi and was looked after by one of the mendicants in the temple, the Mouni Swami. Ramana then moved to a place of tall oleander bushes, then again moved to 'Vahana Mantapam' — the place reserved for vehicles use in temple ceremonies.
In December 1896, Uddandi Nayanar, in the crowd at the temple during the Kartigai festival, saw and responded to silent, youthful sage Ramana. He felt he could gain peace of mind by association with Ramana and became his first attendant. He would protect Ramana from the crowd of sightseers and from persecution by urchins. Not being available at all times to protect Ramana, the mischievous boys still sometimes tormented Ramana with pranks, but Ramana showed no anger.
At about this time, Annamalai Tambiran noticed Ramana and was impressed by the glow of the Self coming from the face of Ramana. Tambiran was in charge of his guru's tomb, Gurumurtam, near Tiruvannamalai. He and Nayanar decided that it would be best if Ramana would shift to Gurumurtam, where he could better be looked after. When this suggestion was made to Ramana, he attempted to get up. They helped him to his feet and took him to Gurumurtam.
Gurumurtam

This is what Bhagavan said of his stay in Gurumurtam:
"Days and nights would pass without my being aware of their passing. … When anyone thought that I should have food, I would stretch a hand and something would drop into my hand. My hands were not useful for any other purpose. I would eat and rub my hand on my head or body and drop again into my continuous mood. This was my condition for some years from the time of my arrival."
"While at Gurumurtam, I had a fairly large number of persons calling to see me, and, in a sense, a reputation had been established."
As the Swami continued to neglect his comfort and even cleanliness, he rose in popular esteem. He sat for weeks on the floor, with ants crawling over him and biting him. Visitors could not bear the ants and would quickly leave. Many people jumped to the conclusion that, being so saintly, he could grant them all the boons they desired, such as wealth, health, and salvation. They poured praises in his ears and offerings at his feet.
Then, Tambiran left, telling Nayanar to look after the Swami and that he would return in a week (but returned only after a year). Next, Nayanar was called away to his mutt (religious foundation), and Ramana was again without a permanent attendant.
In a few months, this was solved. There was a Malayali devotee by the name of Palaniswami who worshiped a stone image of the God Vinayaka in a temple in Tiruvannamalai. He was told by Srinivasa Iyer, "What is the use of worshiping this stone Swami? There is a young Swami in deep meditation at Gurumurtam. … If you go and serve him and adhere to him, your life would serve its purpose."  Spurred on, Palaniswami went to Gurumurtam, saw the Swami, and realized that he had discovered his Guru. Palaniswami was to remain with Ramana for the balance of his life, 21 years. From Gurumurtam days until Ramana shifted to Skandasraman in 1917, he was the instrument for the protection of Ramana's body. Ramana would be without any consciousness of the body, lost in inner bliss, most of the time. Palaniswami would provide protection and also beg for alms and cook for himself and Ramana.
Ramana stayed at Gurumurtam for about 18 months in the midst of disturbance by visitors and then shifted, for about six months, to the adjoining mango-grove, into which no one was allowed to enter without permission of the owner. Here, undisturbed by visitors, they felt freer. During these months, having ample leisure and access to a library in town, Palaniswami brought several Tamil books on Vedanta like Kaivalya Navanitam, Vedanta-Chudamani, Vasishtham, etc. He struggled with these books, word by word, in Ramana's presence. Ramana took each book from him and rapidly absorbed its contents and retained it in memory. The study of books was not needed for Ramana's realization. This had already occurred and required no additional effort or study. The study did help explain his realization's ethical and metaphysical basis and helped him answer the questions put to him by questioners. In the same way, he picked up knowledge of religious books in Sanskrit, Telugu, and Malayalam, and, in the course of time, he was able to speak and write in all of these languages.
For some reason, the mango-grove was no longer where Ramana wanted to stay, so he first moved to a small temple of Arunagirinathar. He wished to see if he could remain absolutely alone, without human contact. He even told Palaniswami, "You go and beg your food and go on. Let me go another way, beg my food, and go on. Let us not live together." But Palaniswami, when the day's begging was over, returned to Ramana. "Where can I go? You have the words of life," was what he felt.
After a month's stay at the temple and a week in the towers in the big temple, where many of his admirers pursued him, he went away to Pavalakunru temple. In the temple, he would sit and meditate. The temple priest, not caring to see whether the Swami was in the cell within the temple, would sometimes lock him in and go away after performing worship. Many pious people would go and wait for his emergence from the cell. For five or six months, Ramana stayed at Pavalakunru temple.
During the time at Pavalakunru temple, Ramana's resolve was tested by his mother, Azhagammal, who had found where her son was and had journeyed to Tiruvannamalai with Nagaswami to talk her son into coming home. When they arrived and found that he was at Pavalakunru temple, they climbed up and saw that he was lying on a rock.
Azhagammal recognized her son, Venkataraman, with a mother's eye, even though his hair was matted, body dirty, nails overgrown, and loin-cloth dirty. She requested that he go back, but he sat, silent and unmoved. The call of friends and relatives can be an obstacle to further spiritual progress, but Ramana was far beyond this. Repeated entreaties were of no avail. She upbraided Venkataraman for his indifference and burst into tears. The young swami got up and walked away. Persuaded by Pachaiyappa Pillai to respond, whether yes or no, Ramana wrote the following to his mother:
The Ordainer controls the fate of souls in accordance with their past deeds, their prarabdha karma. Whatever is destined not to happen will not happen, try how hard you may. Whatever is destined to happen will happen, do what you may to stop it. This is certain. The best course therefore is for one to be resigned.
She had no course left but to go away, as the holidays were over and Nagaswami had to return to his office. "It is for this that we came?" she sighed. So, she came down the hill and left with a heavy heart.
Ramana shifted to Virupaksha Cave in 1899 to stay until 1916 except for a few months where he had to shift to Pachaiamman Koil, due to an outbreak of plague in Tiruvannamalai.
Virupaksha Cave 1899 – 1916
This cave is on the eastern slope of the Aruna Hill. It is a unique cave that has the shape of the syllable Om. It is named after a saint who lived and was buried there in the 13th Century. Many important events occurred here. It was here that his mother, Azhagammal, came to live with him permanently during the last years of her life. It was here that the questions and answers were written that were to become the first small books, Who am I? and Self-inquiry.  It was also in this cave that Ramana broke his silence of eleven years on November 18, 1907, to provide instructions to Ganapati Muni. In his bliss, after receiving this long sought truth, Ganapati Muni, learning that the Swami's name was Venkataraman, gave him the new name of "Bhagavan Ramana Maharshi." Ramana was a shortened version of Venkataraman. He thought that "Maharshi" was appropriate since he saw Ramana as the universal guru.  He also felt that, since Ramana was endowed with all Godly qualities, he should be regarded as "Bhagavan."  Thus was Ramana known to all thereafter as Bhagavan Ramana Maharshi.
The Virupaksha cave was suitable for winter residence but not during summer, for the the adjoining stream became dry and no breeze got into it. There was a crude cave near the Mulaipal Tirtham at the foot of a mango tree, which is from where it got the name of the "Mango Tree Cave." Work was done on this cave to make it more habitable, and, accordingly, Ramana spent some of the summer months there. Palaniswami was always by his side rendering service. Crowds of admirers came. Many of them bringing food, fruits, milk, cake, etc. Besides Palanswami, others began to attach themselves permanently to Ramana and to live with him. "Share and share alike" was Ramana's motto, and food had to be found for all. Palaniswami and others would start down the hill and go to town to beg for food. This would suffice to feed all.  Ramana continued to spend most of his time in meditative Self-Awareness. "For one who rejoices in and is contented and satisfied with the Self, there is nothing more to do." (Bh. Gita. iii. 17.)
The Years 1916–1949
Skandasraman 1916 – 1922
Ramana's years at Skandasraman were full of happy events. It was the first ashram of Ramana. It was here that mother Azhagammal started cooking regularly for the ashram. It was also here that an important scripture of Ramana came to be recorded. In 1917, Ganapati Muni and seven of his disciples questioned Ramana on many aspects relating to the scriptures and spiritual practices. These were recorded in Sanskrit by Ganapati Muni and later published as "Sri Ramana Gita."
It was also at Skandasraman that many of Ramana's lifelong disciples joined him. These include Viswanatha Swami, Ramaswami Pillai, and Kunjuswami, to mention a few.
Skandasraman was also hallowed by the liberation of mother Azhagammal by Ramana's grace at the time of her death.
Sri Ramanasramam
In December 1922, Ramana came down the hill to the location of the present ashram. The ashram was gradually built at the present location. The most well known of the structures was what is now called the "Old Hall."
Ramana stayed for nearly 20 years (from 1927 or 1928 to 1949) in the "Old Hall." He would sit and sleep on the couch in a corner. Above the couch, birds built nests. Squirrels would run about and freely move over Ramana's body. Monkeys would be on the lookout for the chance to snatch food from the offerings given to Ramana. Cow Lakshmi would visit whenever she wanted. People would be going in and out continuously during the day. No one needed permission or an appointment to see Ramana. Many understood that one should seize the best opportunity to clear his doubts, for all were aware of Ramana's compassion and willingness to help earnest seekers. Early in this period, at Muruganar's urging, Ramana wrote and Muruganar arranged Forty Verses on Reality, called by some the crest jewel of the "Advaitic Upanishads."
During the 1940s, Ramana's fame had spread throughout the world, through books such as Paul Brunton's book, Search in Secret India, published in 1934. From then on, more and more seekers had been inspired and drawn to Ramana.
The Final Years of the Body
Cancer – Am I the body?
By 1949, the health of Ramana's body began to deteriorate. The years of neglect began to tell on him. Asthma and arthritis plagued the body, and now a virulent cancer began to grow on the left elbow.
It started in November 1948 when a tiny lump the size of a pea was found. In February 1949, this was removed by the ashram doctor, assisted by another devotee doctor. Soon, another growth appeared, which Ramana jokingly characterized as "rising like a lingam." Ramana never complained and continued with a cheerful calmness. Another operation was done by an eminent surgeon in March. Radium was applied, and, for a time, Ramana's heath improved, though this was short lived. The doctor told Ramana that a complete amputation of the arm to the shoulder was required, but Ramana did not agree to this. The third and forth operations were performed in August and December, still to no avail, and further weakened Ramana. For one operation, Ramana was offered anesthetic, which he refused. After the operation, a devotee asked Ramana, "Did not that hurt?" to which Ramana answered, "The body had pain. Am I the body?" Other systems of medicine were then tried; all proved fruitless and were stopped by the end of March when all hope was given up. During all this, Ramana remained peaceful, with keen alertness and a luster to his eyes. Not a complaint, not a moan, not a sigh during this entire ordeal. He remained steadfastly rooted in the Self.
Where can I go? I am Here.
During this time, Ramana made sure that he was available for darshan by all who wanted to see. As he lay on his couch, thousands would file by for one more moment in the presence of this great sage. He would make himself available, even when his attendants tried to prevent it, they wanting his rest.
A lady devotee came to him in tears, "Bhagavan, you who are curing others must cure yourself and must spare your life for us, your devotees." Ramana replied with great tenderness, "Why are you so attached to this body. Let it go." To another he said, "Where can I go? I am here."
By April 1950, Ramana was too weak to go to the hall. There was a narrow little verandah outside the room where his Mahanirvana was to take place. Due to health, darshan hours were limited to 9 a.m. to 10 a.m. in the morning and 5 p.m. to 6 p.m. in the evening. Devotees would file past, getting one more luminous look from Ramana, which some felt as a parting infusion of grace.
Swami Satyananda, the attendant who was looking after Ramana's body at the time, has given an account of what happened. He reports, "On the evening of 14th April 1950, we were massaging Sri Ramana's body. At about 5 o'clock, he asked us to help him to sit up. Precisely at that moment devotees started chanting 'Arunachala Siva, Arunachala Siva'. When Sri Bhagavan heard this, his face lit up with radiant joy. Tears began to flow from his eyes and continued to flow for a long time. I was wiping them from time to time. I was also giving him spoonfuls of water boiled with ginger. The doctor wanted to administer artificial respiration, but Sri Bhagavan waved it away … Sri Bhagavan's breathing became gradually slower and slower and, at 8:47 p.m., it subsided quietly.
At that moment, witnessed all over India, described by one who saw it as follows, "Suddenly, a bright and luminous body arose from the southern horizon, slowly went up and descended in the north somewhere on the Arunachala Hill. It was not a meteor, as it was bigger than what Venus looks to our vision, and its movement was slow. It was so lustrous that, when it was at the zenith, the light shed by its trail stretched as far as the horizon, like an arc in the sky."
After Mahanirvana, the body of Ramana was garlanded and put up on a couch in order to enable the large crowd to pay their last homage. They filed by, seven to ten broad, until about midnight.
The next morning, the body was moved to the south verandah for viewing, and the samadhi pit was dug. At 6:30 p.m., the body, which had by then received the homage of more than 40,000 people, was carried in a decorated palanquin reserved for the Deity of the temple to the samadhi. The body was positioned in a sitting meditation position, placed in a bag which was then filled with the finest camphor, then lowered into the space reserved for it. The pit was filled to the brim with camphor, salt, and sacred ashes, and closed with masonry work.
Ramana's samadhi continues to draw people from around the world to visit Ramanasramam and to imbibe the teachings of this great master, Bhagavan Sri Ramana Maharshi.
Material for this article was taken from the following sources:
Self Realization, Life and Teachings of Ramana Maharshi, by B. V. Narashima Swami, published by Sri Ramanasraman—Tiruvannamalai, Eighth Edition 1976
Timeless in Time: Sri Ramana Maharshi, by A. R. Natarajan, published by Ramana Maharshi Centre for Learning, Bangalore, Second edition, 2002
Blog post: Bhagavan Sri Ramana Maharshi